Gio Rodriguez met God in a jail cell. Then everything changed.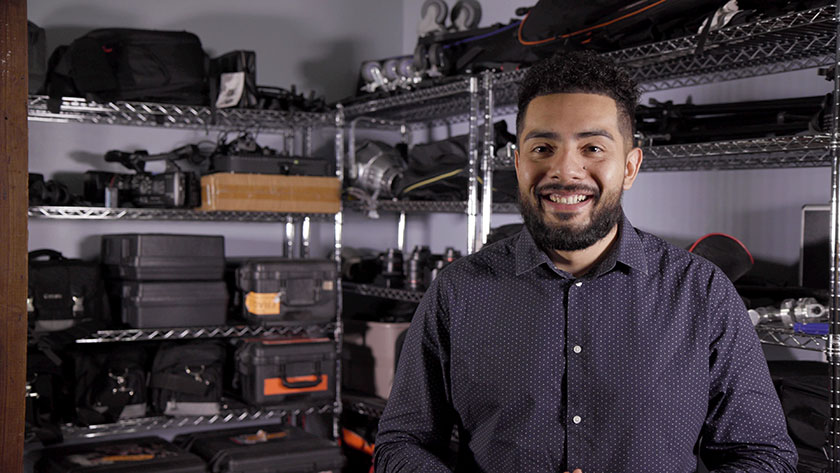 Gio Rodriguez remembers smuggling cash in his boot as a kid in Dallas, Texas. It was a prize for helping his father, a drug dealer, weigh the drugs and count the money. Gio was too young to understand what was going on, but he knew his dad could afford whatever the family needed.
Because Gio performed well in school, he often moved to advanced classes. He met many people but struggled to keep a consistent group of friends. Gio was easily influenced by the "cooler" crowds he wanted to fit into. He continued dabbling in drug dealing, and by 19, he was making thousands of dollars a day.
One life-changing day, Gio found his car surrounded by unmarked police vehicles, with half a kilo of cocaine and a gun in his possession. He panicked and sped off, taking a shot at the cops along the way. But he knew the chase wouldn't last. He was running out of gas and out of time.
Gio gave himself up and landed in a county jail. He knew he was facing serious charges and realized how far he had fallen. Everything—the smells, the soap, the food, the miniscule towels—seemed to make him miserable.
After lunch one day, he heard someone slide a Bible under his door. Immediately he opened the book and read the words, "I will never leave you nor forsake you." It brought tears to his eyes. He knew his  life needed to change—and maybe, just maybe, he wasn't alone.
Gio greeted the man with a gang sign. The friend said, "Whoa, hey, man. There's none of that here."
THE DRUG DEALER HEARS THE CALL
Not long after Gio was released on bond, he met a stranger at the mall. She told him, "You have a call from God. You have to find out what that is." Gio never forgot her words.
He prayed and went to church, earned his GED, and even started a new job. But deep down, he was afraid. "I was doing [all this] just to help my case," Gio recalls, "because pretty much that was my motivation—make it look good on paper."
Gio hoped God wouldn't let him go to prison. But prison became the next step to new beginnings. There, with the help of a chaplain, Gio applied for in-prison programs. Then he prayed, "God, I put my life in Your hands."
A week later, he found himself on a bus headed toward the Carol S. Vance Unit near Houston. Gio saw a familiar face when he arrived and, out of habit, greeted the man with a gang sign. The friend said, "Whoa, hey, man. There's none of that here."
'THIS IS THE TRAINING GROUND'
The Vance Unit was different. People there were trying to make big changes.
Gio wanted big changes for himself, too. He signed up for the Prison Fellowship Academy®, an intensive, biblically based program. Caring volunteers and mentors guided him through classes on how to be a good citizen and how to break free from the criminal cycle.
One of his mentors, Academy manager Darryl Brooks, had a story that reminded Gio of his own, from struggling with cocaine to meeting Christ. Men like Darryl and other Academy participants helped Gio know he wasn't alone—or too far gone.
In prison, Gio realized, "This is the real battle. This is the training ground, and when I get out, that is the boxing match. I'm going to go knock out whatever [struggle] is out there, based off the preparation that I have in here."
THE TOOLS FOR SUCCESS
In the Academy, Christ began to transform Gio from the inside out. He gained humility and healthy confidence, developed skills in public speaking, and wrote for a prison newspaper. When a gracious donor gave video production equipment to the prison, Gio was thankful for the opportunity to learn another skill. He also blended his talents with newfound faith and biblical principles. "Accountability, responsibility, fellowship—all these things, I incorporated into what was going on," Gio said.
When Gio was released, these principles became his tools on the outside. "Because I had this work ethic that I learned in the Academy, I just did naturally a good job," he explained. "[Others] saw it as being exceptional. To me, it was just normal."
As Gio's character grew, so did his relationships with family, friends, and his professional network. Today Gio owns AV Lighthouse Corporation in Dallas, which provides audio/visual production support for meetings, concerts, and events. And he still has mentors to call for advice, to serve as his own lighthouse when things seem cloudy.
Gio knows that real success is not about how much money he can pull from his boot. It's about loving others and walking in the light.
"My relationship now with God is not one of bargaining," Gio said. "It's one of intimacy. ... it's one of connection."
NOTHING PROVIDES HOPE LIKE THE LIVING WORD OF GOD
Share the light of the Bible with isolated prisoners. Open the door to healing and offer a new purpose with your gift today. The demand for Bibles is at an all-time high.

Will you help us meet the need?

GIVE HOPE TODAY!
GET INSPIRATION IN YOUR MAILBOX
Interested in reading inspirational stories of God's work behind bars, or how families are being uplifted through connection and the Gospel? Sign up to receive inspirational stories of transformed lives, encouraging updates, and other great content in your inbox.
Your privacy is safe with us. We will never share your personal information."
HELP CHANGE THE WAY PRISONERS THINK
The brokenness that lands people like Gio in prison, left unaddressed, perpetuates a cycle of destructive thinking and behaviors. Founded on the Christian belief in human dignity and redemption, the Academy seeks to disrupt this cycle. Benefiting from targeted curriculum, compassionate life coaches, and restorative community, Academy participants embark on a year-long journey to develop and practice the biblically based values of community, affirmation, productivity, responsibility, restoration, and integrity.
Academy graduates complete the program as change agents, prepared to take their places as good citizens in their communities inside and outside of prison.
Your gift can help prisoners like Gio change the way they think and introduce them to a God who loves and will never leave them.
BIBLES ARE NEEDED NOW MORE THAN EVER
Prisons across the country are on lockdown due to COVID-19, and Bibles are one of the only ways to still get hope behind prison bars. And nothing provides hope like the living Word of God. The demand for Bibles is at an all-time high. Will you help us meet the need? Please give generously today and your gift will be doubled thanks to a matching grant!