PART ONE: FROM 'KNUCKLEHEAD' PUNK ROCKER TO GOD'S INSTRUMENT
He had been a clarinet- and trombone-playing marching band geek. But then, Richard Andrew's parents bought him a bass guitar and an amp, and he crossed over to pursue a different genre of music—and a different life journey. "'Man,' I thought, 'life doesn't get any better than this.' I had dreams of being in a rock band and touring the world. That was my childhood dream," he remembers.
And then it happened: A gig.
For one glorious night, the California teenager played with his big sister's boyfriend's band at a backyard party in Hacienda Heights. "I came home, and I was just on cloud nine," Richard says. "I mean, it felt like I had just played a huge arena even though it was just this dingy old backyard on a stage made of plywood and milk crates." Richard was hooked. As he sneaked into the house around 2 a.m., he prepared a lie about being out so late. But he never got to use it.
The next morning, Richard's parents had made a decision: His dreams of global punk rock stardom would have to wait. Their teenage son was simply too young for late-night, live-music gigs—and all the temptations that might come with them. After all, it wasn't too long ago he was on his bike, popping wheelies with his neighborhood friends and then racing to be home before the streetlights turned on. No, their straight-A, band geek son had played his first and only gig. They said he could not continue and put his music "career" on hold for a few years.
Devastated, Richard took matters into his own hands.
FROM SEX, DRUGS, ROCK AND ROLL TO PRISON, MAIL CALL, AND A 'CHRISTIANESE' CARD
At first, Richard thought he had it made. Pursuing his music, he moved from place to place and couch to couch. To make sure his parents couldn't find and stop him, he dropped out of school. Very quickly, he plunged into drugs. "[I] pretty much tried everything under the sun, but once I tried methamphetamine, I had found the Holy Grail," he says. "I locked onto that, and I was using it every day, became an addict really fast, started selling drugs so that I always had some for myself." By the time he was 18, cycling in and out of homelessness, Richard was a drug-addicted, narcotics-dealing teen father of two daughters.
Still chasing his music dream by any means necessary, Richard landed in prison. It was there he began slowly to realize he was the one being pursued. "Ultimately, the only way that I was reached was by being … stripped of my freedom, stripped of my identity, put behind bars," says Richard, recalling his only option was "… to look up because I cannot fall any further. It was in that moment that the rescue mission started to unfold in my life."
Richard started receiving what would be life-changing messages—via mail. Looking back, he is still amazed at God's passionate pursuit. "… The knucklehead teenager who ran away from home to join the punk rock music circus—[God] didn't forget about me."
Prison mail call for years was a daily source of frustration for Richard, thanks to his bunkie's lovesick girlfriend. She "would write him every single day without fail. And she used to doctor up the envelopes … so it came covered in lip[stick] prints, and she would also spray it with perfume," says Richard, who received no correspondence. "So it's good for him, but bad for me. … I used to think, 'My goodness can she miss one day, for crying out loud?'"
Then, Richard heard his name at mail call. He didn't recognize the sender or return address. Still, "I just couldn't wait. I was so excited," he says, so he ripped open the envelope. And then came his second shock of the day: "What I pulled out is what I would call a 'Christianese' Hallmark card. … It had a lot of religious overtones telling me that I was loved by God and that kind of stuff. And I remember being a little disappointed—'My first piece of mail, and it's this? This is what I get?'" Well, at least it felt good hearing his name called, but Richard was sure that wouldn't happen again.
He was wrong. "… to my surprise, the cards continued to come twice a month, every month for over two years. Every card talking about God, and love, and Jesus; God, and love, and Jesus."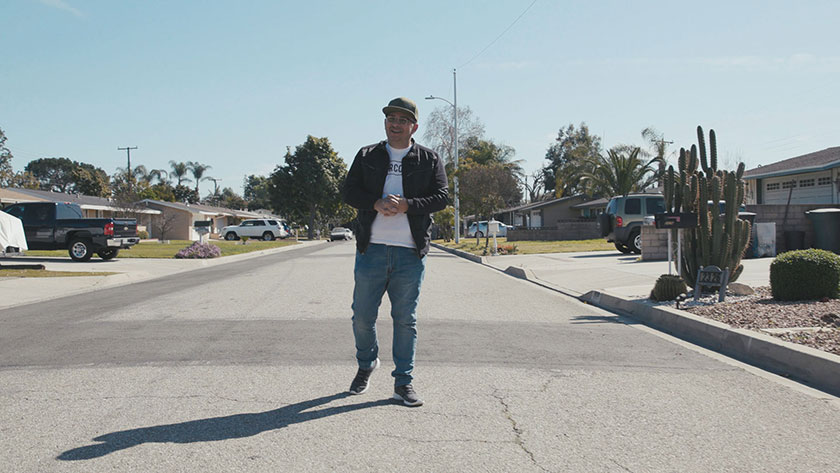 ---
'The knucklehead teenager who ran away from home to join the punk rock music circus—[God] didn't forget about me.'
---
'HEY, MAN. YOU WANT TO GO UP?'
Richard read every word of every card, some of them more than once. God was ushering him forward, but Richard still didn't realize it. "I didn't feel like I ever really had an encounter, but that's probably because I couldn't see at the time what God was doing on the inside of me."
Then one day, sitting in the back of the prison chapel, Richard reluctantly—angrily, really—bowed his head and closed his eyes, as the speaker had instructed. "In an instant … I saw two images right there, right there behind my eyelids, and they were the faces of my two daughters."
Suddenly, a wave of guilt and shame flooded him, he recognized he had been on a destructive merry-go-round: Get high, see or think about his girls, "then feel so guilty that I would want to get higher and higher. And it was this vicious circle."
Richard felt a tap on his shoulder. Another prisoner standing really close asked, "Hey, man. You want to go up?" Not really even knowing what that meant, "In a split second, I blurted out, 'Yes.'" Moments later, Richard prayed to receive Jesus as His Savior. "I went back to my cell that night, lights went out, my head hits the pillow, and the very last thought I had before I fell asleep is, 'What did you just do?' And I fell asleep."
The next day, he was a man on a mission: He was going to call the twice-monthly card sender. When he finally did reach her, "I told her my name, and before I could get my last name out, she cut me off and said, 'Have you given your life to Jesus yet?' I said, 'Well, I went up last night. Does that count?'"
Richard was shocked—once again. She began to praise God—and encourage Richard to begin speaking in tongues with her. "She would tell me, 'Jump in when you're ready,' and then she'd go back," he remembers. The call lasted 15 minutes, and when it ended, "I stepped out of the phone booth, and I made my way out onto the prison yard," Richard remembers. "And I just said, 'Man, note to self: don't ever call the number again, like lose that number—stat!"
---
'I remember reading the cards thinking, 'Is there anything else you can write about? Like do you have a pet you can tell me about? Because, I'm just not feeling this religious stuff.' But if I'm honest, I looked forward to getting those pieces of mail.'
---
Richard walked free out of prison January 8, 1994. As a condition of his parole, he joined a 12-step program at a local church and became active with its men's ministry. There, God began rewriting Richard's story. "He started to undo every selfish thing I had ever done. He started to restore every broken relationship that I had abused and neglected. … He remade me," Richard confesses.
"So what it looks like today is that I've been the best son, always, that my parents have ever had, and I've been the best father that my daughters have ever known their entire life. That's what it looks like today," he says, "and I'm not boasting in myself. I'm boasting in the supernatural, restorative, and redemptive work of the cross of Jesus Christ."
With Richard's new life came a new life's mission. "I got plugged into a local church, and I was passionate. I wanted to serve. And I told the pastor, 'What can I do? I'll park the cars, scrub the toilets.'" What he ended up doing was playing guitar for Bible study. And when the singer was out sick, Richard's pastor called on him to sing. "He just kept poking and prodding and telling me, 'I don't know why I'm feeling this way, but I really think you should try,'" Richard recalls. Finally surrendering, "On a Thursday night, in a living room of a Southern California home, for about 10 people, I sang for the first time in my life. … I never sang before, and I have not stopped singing since."
Today, God is using the former prisoner as an instrument of worship and evangelism.
---
'On a Thursday night, in a living room of a Southern California home, for about 10 people, I sang for the first time in my life. … I never sang before, and I have not stopped singing since.'
---
PART TWO: STANDING IN THE SPOTLIGHT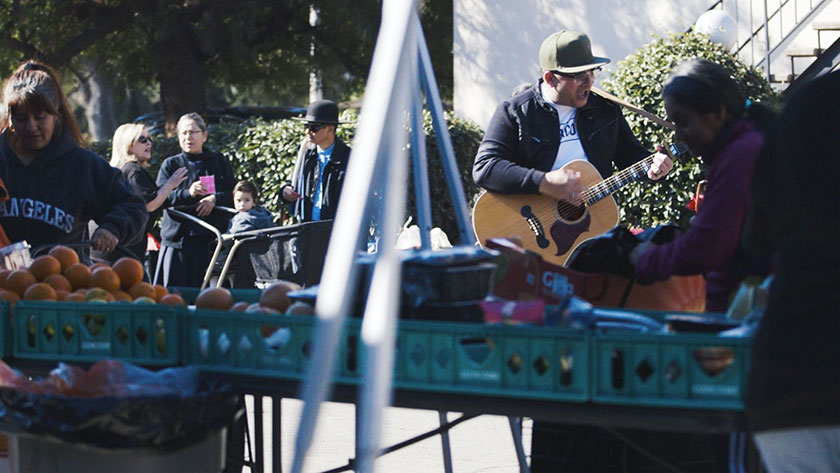 Richard Andrew is the first to admit God has transformed his life. First, God sent him to prison, where everything changed for the once-homeless, drug-addled teenage father of two. Later, following his January 1994 release from prison, Richard's passion for God led him to a church home. Because of God, Richard's relationships with his parents and daughters are now restored, and he is gainfully employed. He even has a new wife.
But one thing didn't change: Music remains a central part of Richard's life.
From the time his pastor convinced him to sing for the first time, Richard hasn't looked back. He started writing songs and plunged into singing and playing. "God gave me a singing voice, but it took a relationship with Jesus to really unlock that gift. I didn't know the full extent of my ability until I came into a relationship with Him," he says.
'A LITTLE OLD LADY NAMED ROSE'
After singing at a local church, Richard met the sender of those cards he received in prison. Her name was Rose Gunn, and the two kindled a friendship that would last until her final days. When Rose's time on earth was done, Richard found himself by her side, holding her hand, and praying for her. "And in that moment, God really showed me, 'Richard, I orchestrated all of this for my servant Rose. I did not want her to pass from death to life alone because I didn't want her to be scared in this place.'"
Today, Richard stands in the spotlight, singing and evangelizing—and Rose's impact on his life lives on. "[God] has used me to literally travel around the country and the world," he says. "I'm singing songs that He's given me and telling people a story about a little old lady named Rose. And over the years we've seen thousands of people make first-time decisions for Jesus. This is her legacy. This is Rose's legacy continuing to unfold."
---
'God gave me a singing voice, but it took a relationship with Jesus to really unlock that gift. I didn't know the full extent of my ability until I came into a relationship with Him.'
---
DOWNLOAD "HEAVEN ON EARTH" FROM LIVE AT SUNSET BY RICHARD ANDREW