APRIL IS SECOND CHANCE MONTH
Every person has dignity and potential. But approximately 1 in 3 American adults has a criminal record, which limits their access to education, jobs, housing, and other things they need to reach that potential.
Since launching the first Second Chance® Month in 2017, Prison Fellowship® has spearheaded the nationwide effort to raise awareness about these barriers and unlock brighter futures for people with a criminal record.
Together we can open the door for approximately 70 million Americans to live up to their potential after paying their debt to society!
PRESIDENT BIDEN DECLARES APRIL 2021 AS SECOND CHANCE MONTH
White House Proclamation recognizes Second Chance Month, affirming the Administration's support for removing the unnecessary barriers that prevent those with a  criminal record from becoming productive members of society.
Take Action for Second Chances
Use our simple online tool to send a letter to Congress asking them to declare April 2021 as Second Chance Month, and to thank President Biden for already doing so!
Take Action
Join the Second Chance Challenge
Get creative, raise awareness, and make a lasting impact by raising funds! Every dollar you raise will support the ministry of Prison Fellowship, helping more people to live out their second chance.
Start Your Fundraiser
Road to Second Chances Virtual Prayer Meeting
April 17, 2021 1:00 p.m. ET
Join us for an opportunity to cover our nation with prayer for people affected by crime and incarceration. At organized "stops" with storytellers and prayer leaders across the country, you'll hear real life stories of people searching for their second chance.
Sign Up
VIRTUAL SECOND CHANCE SUNDAY SERVICE
April 18, 2021
Join us on Facebook for a re-broadcast of the virtual service that took place earlier this month, featuring worship from Hillsong East Coast and a sermon from Pastor Jon Kelly of Chicago West Bible Church.
Watch on Facebook
VIRTUAL SECOND CHANCE MONTH GALA
April 29, 2021 7:00 p.m. ET
You're invited to a special evening celebrating second chances and amplifying hope, featuring keynote speaker Bryan Stevenson and a musical performance by Lecrae.
Sign Up
BECOME A PARTNER
Let's partner together to advance and celebrate second chances through events, social media messages, and more. Tell us how you'd like to be involved, and we will be in touch with tools and resources to support you in your planning.
Become a Partner
HOST A SECOND CHANCE SUNDAY
Download the free Second Chance Sunday toolkit to help break down barriers and create opportunities for second chances through teaching, study, and prayer in your church. Our carefully cultivated toolkit includes pastors' notes, a small-group discussion guide, a bulletin, and coloring pages for children—everything your church needs to host a Second Chance Sunday.
Get The Toolkit
SPREAD THE WORD ON SOCIAL MEDIA
We welcome you to help spread the word about Second Chance Month and unlock brighter futures for Americans who have repaid their debt to society. Our toolkit includes Facebook and Twitter posts and downloadable graphics.
Get The Toolkit
SHARE YOUR SECOND CHANCE STORY
Are you a returning citizen who received a second chance? Did you face obstacles to finding jobs, housing, or education? Is your organization passionate about providing second chances?
Share Your Story
GET UPDATES FOR SECOND CHANCE MONTH 2020
Sign up to receive updates about events and opportunities you can participate in as we celebrate Second Chance Month 2020.
Sign Up Today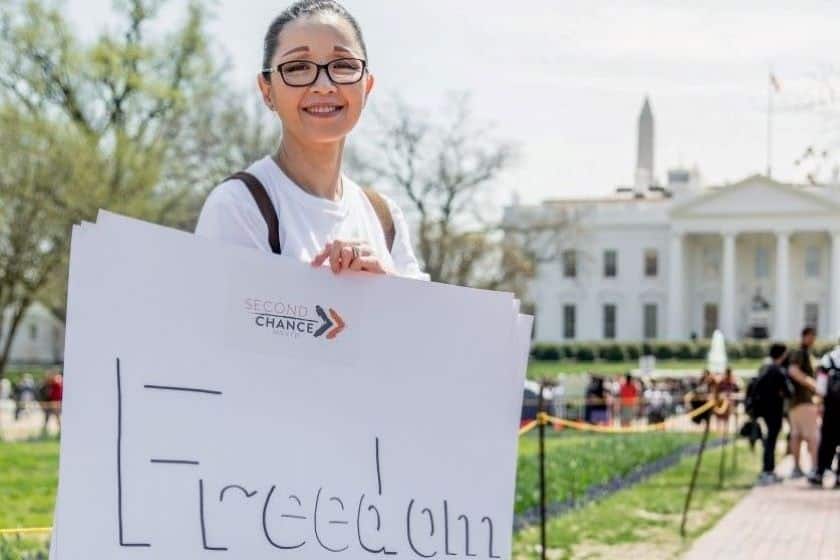 Justice Action Network
Second Chance Month Champion
FWD.us
Grace Guardian
FHI 360 National Institute for Work and Learning
Dignity Defender
Fifth Third Bank
Dignity Defender
Stand Together
Dignity Defender
Valtim Marketing Solutions
CELEBRATING SECOND CHANCES EVERY APRIL
No life is beyond God's reach. Just as God forgives our sins and offers us a second chance, the Bible shows us that we can offer a second chance to those who have paid their debt to society. People with a past can still have a bright future, and their families and communities stand to benefit from their contributions.
Prison Fellowship and its partners are working to reduce barriers keeping formerly incarcerated Americans from successfully rejoining society. We're also raising awareness of the importance of second chances through targeted press campaigns, policy briefings, prayer walks, "Second Chance Sunday" services held by churches, and coordinated petition and social media campaigns.
If you share our passion for breaking down barriers and creating opportunities for second chances, we invite you to partner with us and celebrate April as Second Chance Month!